We re-open on May 18th!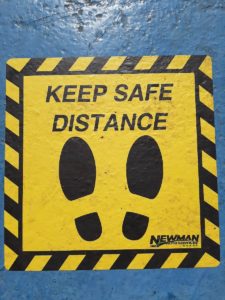 We are delighted to announce we shall re-open on Monday 18th May, in line with Government guidance. We have spent the last couple of weeks ensuring that efficient, effective procedures are in place to ensure that we play our part in keeping our customers, our staff, and their families as safe as possible.
We promise to play our part. We ask that you help by obeying the signs and guidelines we have set.
When you visit our workshop, please follow our rules:
When dropping off your car, please park it outside with the key in the ignition.
Do not enter the workshop unless requested—the chains and signs going across the bays are there for a reason. Please stay on the customer side of these
Use hand sanitiser before and after coming in contact with any surface. We have set up a number of sanitising stations both inside and outside the workshop for your convenience.
Keep a 2-metre distance at all times. Use the signs all around our workshop to remind yourself of how far apart that is.
Sadly, we no longer shall shake hands.
We shall sanitise the controls of all cars we enter. Each car will be supplied with a Car Care Kit—these offer protection to the steering wheel, gear stick, handbrake and driver's seat.
We kindly ask that you play your part and ensure your car interior has been cleaned/sanitise before you bring it to us.
Our mechanics regularly changing their gloves, following best practise, and also wash and sanitise their hands, with and without gloves, for your protection and theirs.
All staff also wash their hands regularly, while we also disinfect work and communal areas, such as door handles, sinks, keyboards, counters, and desk tops.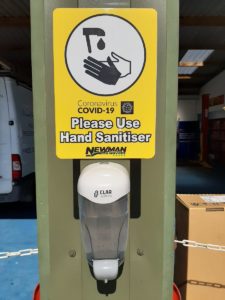 Payment Systems
To provide you with better service, our contactless payment system is available in 3 forms:
Bank transfer prior to collecting your car;
Card payment over the phone prior to collecting your car;
Payment on site, where staff will manually enter your card details into the machine in your presence.
CLEANING YOUR CAR
Disinfect against COVID-19
For your protection we have invested in a new machine that is proven to kill 99.99% of harmful viruses and bacteria in the air. We use this machine to sanitise every car that we are required to enter. (Note this excludes external-only repairs, such as punctures.)
Always remember that car interiors, child car seats and even such innocuous things as gearsticks and door handles are potential carriers of the COVID-19 virus. The most touched areas are the steering wheel and rear-view mirror. Child car seats must also be thoroughly cleaned—and don't forget the fuel cap when refilling.
You are strongly advised to regularly sanitise your own car—some recommend it should be done before and after every journey, especially if you share the car with another person, or if you give someone a lift. Areas that should be sanitised regularly include the steering wheel, gear stick, dashboard, keys, handbrake, door handles (inside and outside), start button, seats, radio and heating controls, sun visor, touchscreen, centre console, cup holders, etc.
Be careful when cleaning as some cleaning ingredients can damage the materials used in your car's interior. Hand sanitiser and other alcohol-based products are not ideal for interiors and may damage delicate surfaces, such as leather seats and the touchscreen. You may use disinfectant wipes on other hard-wearing surfaces. A patch test is a good first option to ensure you don't mark or damage a surface; remember, all surfaces react differently.
If your car requires service or repair, please call us on 01 699 1599. We are now taking bookings from Monday 18th May onwards. We look forward to our re-opening and to see both old and new customers—at a distance, of course! Everyone here will ensure we play our part in preventing the spread of COVID-19, and shall follow Government guidance as we continue to monitor all available information.